*Single and Group Registration Forms are below.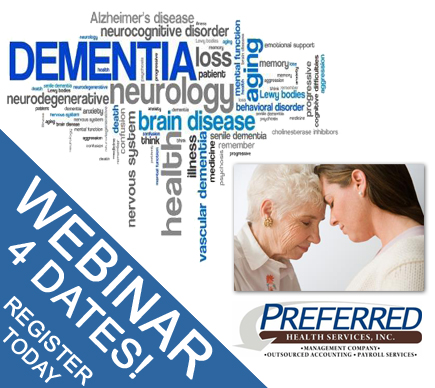 2023 SCHEDULE
This is the required seminar for those pursuing certification who qualify as CDP/Certified Dementia Practitioner through the National Council of Certified Dementia Practitioners or for those who just want to enhance their dementia education.
Dates:
June 14, 2023 Time: 8:00 am to 4:30 pm
August 9, 2023 Time: 8:00 am to 4:30 pm
October 11, 2023 Time: 8:00 am to 4:30 pm
December 13, 2023 Time: 8:00 am to 4:30 pm
Location:
This seminar is Virtual/ Online only.
Speaker
Phronsie Owens, BS, RN, CADDCT, CDP
Seminar Goals and Objectives:
1. To provide fundamental education on dementia and dementia care.
2. To enhance the quality of life of dementia patients through education care providers.
3. Foster sensitivity and respect for the dementia client.
4. To teach communication techniques.
5. To provide sensitive approaches for assisting residents with activities of daily living.
6. Identify common causes of aggressive, repetitive, and sundowning behaviors in older adults.
7. Describe behavioral/care interventions that may be used to prevent, reduce, or eliminate difficult care situations.
8. Describe challenges related to caregiver stress and utilize stress reduction techniques.
9. Learn alternative activity interventions that are success-oriented and failure-free.
10. Learn how to develop a Wandering Preparedness Team.
11. Address issues of sexuality and the dementia resident.
12. Address end-of-life care.
CONTINUING EDUCATIONAL CREDIT APPROVED FOR:
Alabama Board of Nursing Home Administrators: 7.0 hrs
Alabama Board of Assisted Living Administrators: 7.0 hrs. Meets Cat II requirement for cognitive impairment/dementia education.
PHCC is an approved provider of contact hours by the Alabama Board of Nursing (7.5 hours) (ABNP00377). Licensed nurses must present their cards in order to receive credit hours.
Alabama Board of Social Worker's 7.0 hrs
Registration Information
The tuition is $140.00 per person. This fee includes an electronic copy of the student notebook and your individual key. You will receive confirmation of your registration once payment is received. PHS reserves the right to cancel seminars based on insufficient enrollment. Registrants who need to cancel must provide PHS with written notice no later than one week prior to the seminar date. Cancellations are refundable less a $50.00 administrative charge. Substitutions may NOT be made without prior written agreement. Continuing Education credits issued will be canceled for non-payment of required fees.
SINGLE or ORGANIZATION REGISTRATION
Note: $140.00 each for the first 2 attendees/ 3rd attendee from the same organization is $125, 4th attendee and beyond from the same organization is $100.
*After Pressing Submit, You Will Be Taken To The Payment Page.*