*Single and Group Registration Forms are below.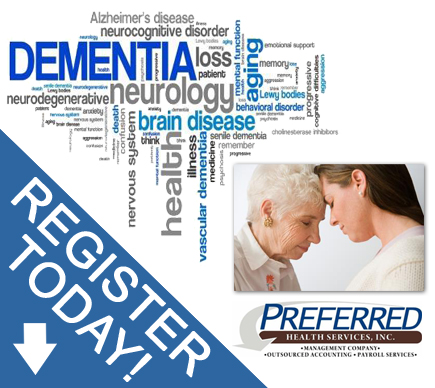 WALK 10 MINUTES IN THE SHOES OF DEMENTIA
Are you ready to really learn about dementia? About how people with dementia live every day? Are you ready to experience the sensory deprivation most people with dementia experience? This seminar will teach the most common problems people with dementia live with every day. The student will experience real-world dementia living. Come spend some time in the world of those with dementia.
Date: March 29, 2023 Time: 8:00 am to 4:30 pm
Location:
Cherokee County Health & Rehab Center – Education Building
877 Cedar Bluff Road, Centre, AL 35960
Presenters:
Phronsie Owens, BS, RN, CADDCT, CDP
Trudy C. Lowe, MBA, NHA, ALA, CDP
Seminar Goals and Objectives:
1. To learn the fundamentals of dementia and Alzheimer's care.
2. To learn common causes of aggressive, repetitive, and sundowning behaviors in people with dementia.
3. To learn effective communication techniques, including reducing elopement risks.
4. To learn interesting, failure-free, and success-oriented activities to engage the person with dementia, and practical tips for personal care.
5. To learn how the senses are affected by aging and dementia, and the importance of color and contrast.
6. To participate in the dementia tour.
7. To learn common dementia "behaviors" and how to manage "behaviors" without antipsychotic medications.
CONTINUING EDUCATIONAL CREDIT APPROVED FOR:
Alabama Board of Nursing Home Administrators: 7.0 hrs
Alabama Board of Assisted Living Administrators: 7.0 hrs. Meets Cat II requirement for cognitive impairment/dementia education.
PHCC is an approved provider of contact hours by the Alabama Board of Nursing (7.5hrs) (ABNP00377). Licensed nurses must present their cards in order to receive credit hours.
Alabama Board of Social Worker's 7.0 hrs
Registration Information
Tuition is $150.00 per person. This fee includes registration, handouts, lunch and snacks, and continuing education hours. You will receive confirmation of your registration once payment is received. You are enrolled unless otherwise notified. PHS reserves the right to cancel seminars based on insufficient enrollment. Registrants who need to cancel must provide PHS with written notice no later than one week prior to the seminar date. Cancellations are refundable less a $50.00 administrative charge. Substitutions may be made at any time. *Continuing Education credits issued will be canceled for non-payment of required fees.
MAKE PAYABLE TO:
PREFERRED HEALTH SERVICES, INC.
230 W. Main Street, Centre, AL 35960
Phone: (256) 927-7408 | Fax: (256) 927-7444
E-mail: registration@phscherokee.com
SINGLE PERSON REGISTRATION
---
ORGANIZATION REGISTRATION
Note: $150.00 each for the first 4 attendees/ 5th attendee from the same organization is free (max of 20 per class – register early!)